BUSINESS
STORE

LINE FRIENDS stores will visit most trendy cities in the world such as Tokyo, New York and Hong Kong. LINE FRIENDS stores filled with various character items and cute foods will provide exciting experiences just like a theme park in the city.

Café

Have a try for brilliant and cute desserts look like popular characters of LINE FRIENDS. F&B menus such as macaroon, biscuit, chocolate, coffee and so on made with good ingredients are waiting for you.

Collaboration

LINE FRIENDS introduces authentic products collaborated with world famous brands. LINE FRIENDS supports brands aim for the best product with their own principle and insistence in the world.

Character Goods

LINE FRIENDS pays attention to make character products that are valuable in real life. From the simple stationeries to living and travel products, there are 5000 LINE FRIENDS products considered practicality and quality in addition to cute design.

Licensing

LINE FRIENDS develops license business with the world's best partners in various fields. Through license business where each other's ability and potential cross, broaden the touchpoint and enhance LINE FRIENDS' brand competitiveness.

Contents

Global character brand LINE FRIENDS provides contents of various genres to share and enjoy worldwide such as animation, movie, game, education, publication and so on based on its knowhow and competitiveness accumulated so far.
ABOUT LINE FRIENDS
Mobile characters came out into the world

LINE FRIENDS were created as sticker characters of mobile messenger "LINE" in 2011. Fun LINE FRIENDS characters with friendly and common look available in daily life beyond its creation background of mobile. It became a global brand beloved in various fields of the world including 5,000 character products, animation, game, café, hotel and theme park.

Not shameful characters for the adults to love

Who said that characters are for children? Cultural icon representing mobile era, LINE FRIENDS is the characters for everyone in all generations in the world to enjoy. There are a lot of people such as family, couple and friends who fall in love with characters in LINE FRIENDS stores located in major cities of the world.
Asia NO.1

LINE FRIENDS became Asia number one character as it wins the most authoritative award in licensing business, LIMA-ALA. Thanks to its worldwide popularity and brand value, it is carrying out collaboration works with global brands and working as a global partner of UNICEF.

New experiences provided by LINE FRIENDS

In 2015, LINE FRIENDS Corporation established to improve its value as a character brand and enhance professionalism of character business. Enjoy lots of pleasure earned through new space, services and products that LINE FRIENDS provides to the world.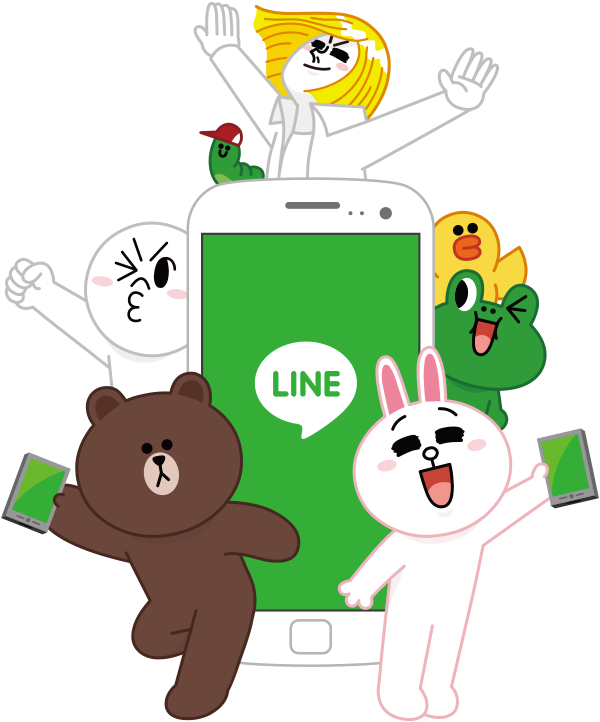 LINE FRIENDS
Introducing representative character of LINE, LINE FRIENDS!
View video
LINE RANGERS
See 400 characters of LINE RANGERS!
View video